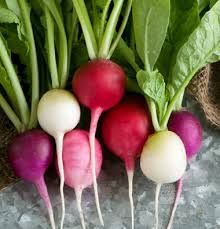 Radishes (bundle)
Offering a peppery, satisfying crunch with every bite, radishes have a unique place in the hearts of veggie lovers. A root from the Brassica family and a cousin to cabbage, the many shapes, sizes and colors of different radish varieties is surprising. Sliced, they make a zippy addition to sandwiches and salads.
Radishes are a very good source of vitamin C – 25% of the daily recommended value – helping to rebuild tissues and blood vessels, and keeping bones and teeth strong. Vitamin C fights disease and rescues the cells from an onslaught of destructive free radicals. This is done through electrolytes and natural antioxidant action of this one vitamin, increasing immunity of the body, and helping to fight against all kinds of diseases, including cancer, heart disease, and stroke.
Folate, fiber, riboflavin, and potassium, as well as good amounts of copper, vitamin B6, magnesium, manganese, and calcium are less prominent nutrients that support the healthy properties of radishes.